Size
1
2
3
4
5
6
Weight
2-5 kgs
4-11 lbs
4-8 kgs
9-18 lbs
6-10 kgs
13-22 lbs
9-14 kgs
20-31 lbs
11+ kgs
24+ lbs
14+ kgs
31+ lbs
Approx. age

up to 2

months

2-6
months
3-9
months
6-18
months
18+
months
24+
months
Average
diapers
per day
8-10
8
6
6
5
5
While it's important to keep in mind that all babies are different, we recommend our size 5 diapers from approximately 11kg or 24lbs, which for most children is around the age of 18 months. 
With our unique koala and monkey designs on the bottom, they make running after your toddler the cutest chore of the day. But more importantly, our diapers are the most sustainable and most accredited eco option on the market. Every diaper is extra gentle on baby's sensitive skin and contributes to the permanent protection of rainforest through the Kit & Kin Foundation. So you can be sure that you've made a conscious choice for your child and the world they will grow up in.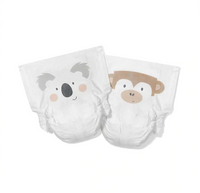 If you're struggling to keep up with your little gymnast or you have an early bloomer who is interested in potty training, diaper pants in size 4 or 5 might be worth a consideration. Super quick to pull up, they are also useful for fostering confidence and independence in children learning how to use the toilet. 
'When should I move up a diaper size', you're asking? We've got you covered. We have a five point guide to the signs to look out for when it's time to 'graduate' to the next size. 
Buy our size 5 diapers