Size
4
5
6
Weight
9-14 kgs
20-31 lbs
11+ kgs
24+ lbs
14+ kgs
31+ lbs
Many of our Kit & Kin parents wonder what age size 5 diaper pants are best for. The short answer is they are well suited for children 20 months and older. The long answer is that this can of course vary greatly, depending on your little one's height, weight and your family's preferences. Our Ultimate Diaper Size & Fit Guide is a good place for even a seasoned diaper pro like yourself to find a useful tip or two. 
At this age, you have the luxury of choice between size 5 diapers or pants. Pants are great for toddlers who don't bless you with patience during diaper changes, as they are especially quick and easy to put on. They are also great for furthering confidence and independence in potty training or as overnight diapers for children who are potty trained (well done!). We have made their stretchy waistband extra soft for super sweet dreams.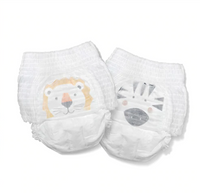 If you're struggling to keep up with your little gymnast or you have an early bloomer who is interested in potty training, diaper pants in size 4 or 5 might be worth a consideration. Super quick to pull up, they are also useful for fostering confidence and independence in children learning how to use the toilet. 
'When should I move up a diaper size', you're asking? We've got you covered. We have a five point guide to the signs to look out for when it's time to 'graduate' to the next size. 
Buy size 5 eco diaper pants